Why not show your home some love this Valentine's Day with some beautifully finished solid wood flooring?
The Woodpecker story started three generations ago, with an unrivalled passion and knowledge of wood. Created from one solid piece of wood, each board is carefully chosen, graded and finished to create an exquisite design. Once installed, the splendour of the wood radiates throughout the room, adding a real sense of warmth and romance to its surroundings.
Woodpecker Flooring's York range is made up of six spectacularly finished solid wood floors. Each are crafted with the utmost love, care and attention to augment the natural feel, look and texture of the natural woodland setting…
YORK WHITE WASHED OAK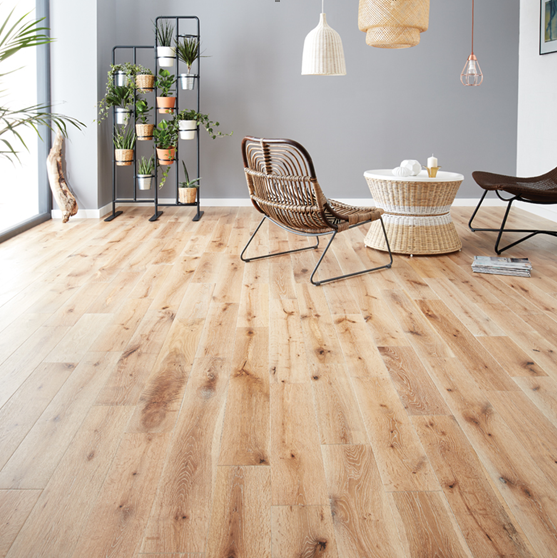 Sandy tones, bright flaxen hues and striking knots make up our York White Washed Oak floor. The airy feel of the seaside flows throughout, with the subtle colour and lightly textured surface forming a wonderful quality of solid wood flooring.
Get the Look…
Create your own dreamy retreat by teaming this naturally inspired floor with a mixture of woven textures and fabrics. Keep your space minimal to achieve a beautiful light and airy look. Combine soft tones of colour to enhance the feeling of tranquillity or add splashes of bright shades to really bring your room to life. The addition of fresh plants will awaken all senses and further embody the natural retreat feel which emulates from this beautiful solid wood flooring.
YORK GREY WASHED OAK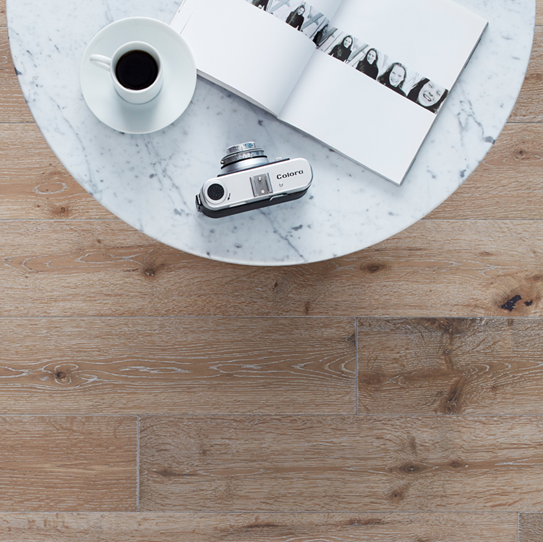 Grey Washed Oak is the perfect addition to a more contemporary home. The warm ashen shade adds a modern feel with traditional elements. Defined grain patterns and an array of distinct knots add character and depth to form a truly radiant style of solid wood flooring.
Get the Look…
This ashen shade of solid wood flooring is the perfect addition to a Scandi themed space. Pair with light walls and a mixture of light and monochrome furnishings to further enhance the clean and contemporary feel. For true Scandi style, ensure you keep accessories to a minimum – less really is more and try experimenting with splashes of soft colours to liven up your space.
YORK SELECT OAK BRUSHED AND LACQUERED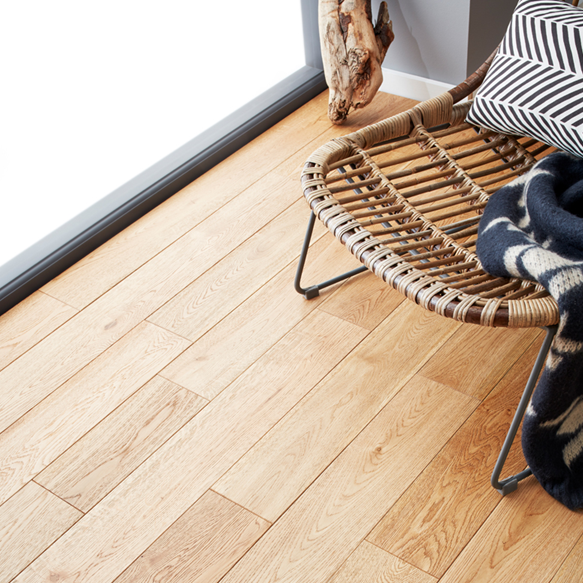 York Select Oak is hand-picked to ensure only small knots are included and a consistent look is captured. This delightful style of solid wood flooring is beautifully refined to showcase the natural shade, grain and pattern of wood within its natural setting. Each board is carefully brushed to enhance its natural textures and finished with matt lacquer for a subtle satin sheen.
Get the look…
The natural shade of solid wood flooring is timeless and lends itself to any style of décor. Whether you choose to create a light and airy feel with white walls or a more contemporary feel with bold statement colours, this solid wood flooring will complement an array of décor styles for many years to come.
YORK RUSTIC OAK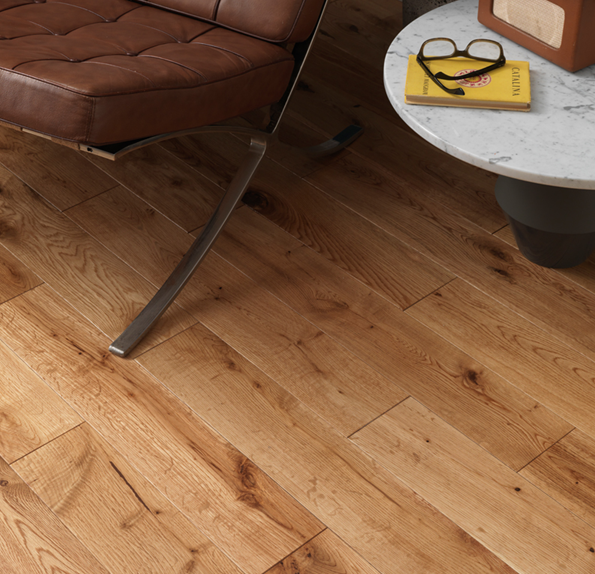 If you're in search of a traditional style of solid wood flooring, York Rustic Oak may be the perfect floor for you. Bursting with rich honey hues, elegant knots and natural dark streaks, the beauty of the natural wood flows right through. York Rustic Oak is made up of an assortment of plank lengths to heighten the classic rustic feel which are glazed with 5 coats of finish, adding to the overall lustre of the floor.
Get the Look…
This natural style of solid wood flooring is timeless and as long as it's well maintained it will last for many years to come. Experiment with a combination of wooden furniture, stone features and light décor, to really enhance the exquisite qualities of this solid wood flooring.
YORK WALNUT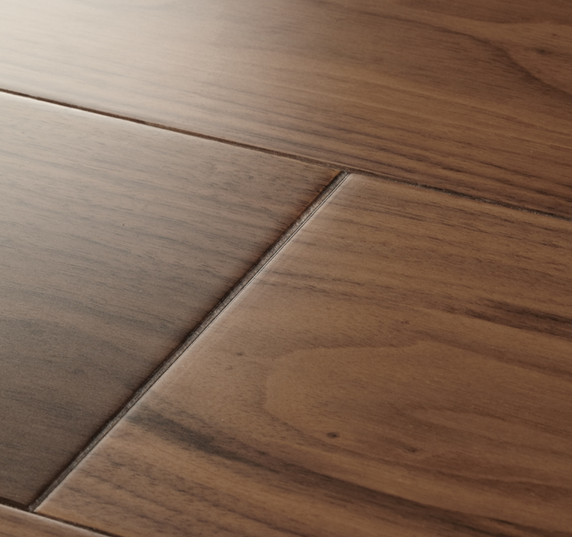 York Walnut is a sophisticated and luxurious dark shade of solid wood flooring. The deep chocolate shades with the array of lighter tones emulate a wonderful warm, romantic feel. And the wild grain patterns makes it a truly unique style of floor.
Get the Look…
This is a statement floor and will make a perfect addition to any home. To elevate the stunning qualities within this floor, pair with a light decor theme, adding further detail and interest with a variety of different textured furnishings and accessories. Or, intensify the luxurious look by pairing with dark walls and furnishings. To bring the room to life, add an array of silk and velvet accessories.
YORK ANTIQUE OAK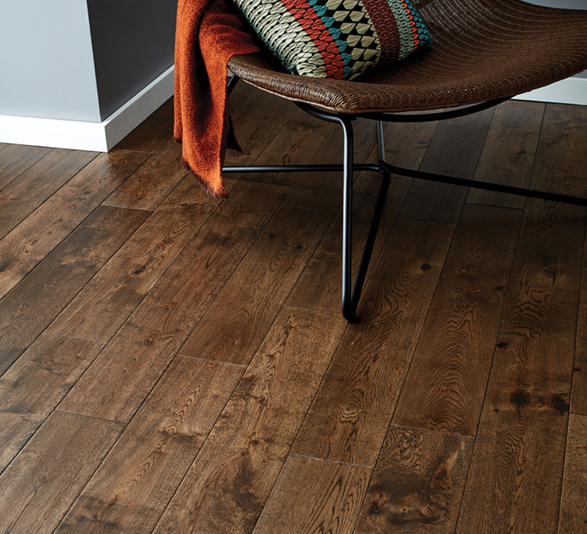 York Antique Oak is a striking style of solid wood flooring. It's full of character and consists of a medley of plank lengths and bevelled edges. Copper hues flow throughout the oak's rich chocolate colours and a lacquered finish creates an irresistible shine.
Get the Look…
Pair this sumptuous antique solid wood floor with dark walls and experiment with an array of rich dark furnishings and accessories. Leathers, woods and touches of brass or bronze will further enhance the antique feel. Light walls and softer furnishings will create a tender look and feel. Experiment with an array of vibrant coloured accessories to inject colour and life into your room.
To find out more about Woodpecker's York Wood Flooring click here.