Innovation in materials and manufacturing enables complex brick detailing with offsite quality from Keystone.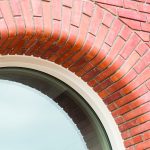 Keystone offers a technically advanced, offsite solution for an extensive range of brick slip installations including arches, panels, soffits and architectural features. The Keyslip Brick Details range, which consists of Brick Slip Feature Lintels and Lightweight Brick Headers and Sills, enables intricate brickwork detail to be carried out in a factory controlled environment. This comes as brick continues its resurgence in British architecture, and while this trend may have been restricted by skills shortages on sites, the investment in innovation by Keystone is removing that barrier.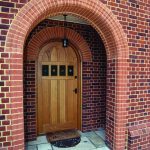 Offering a bespoke design service, Keystone's engineers develop unique solutions to complicated brickwork over openings. Every Brick Slip Feature Lintel is manufactured bespoke to order, ensuring that each individual unit is customised according to the unique size, shape and aesthetic requirements of the project.
Keystone combines its outstanding structural expertise with its patented brick slip adhesion statement to produce incredibly effective brick detail.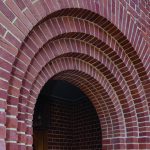 Derrick Mc Farland, Managing Director of Keystone Lintels explains, "the Keyslip Brick Details range offers builders and contractors a unique way to enhance the quality of their brickwork detailing in a highly labour efficient way at a time when skills are acknowledged to be in short supply onsite. Architects and developers require high quality finishes and this offsite solution offers the assurance that the finished brick detailing will be as designed".
Each Slip Brick feature unit is produced using exactly the same brick from the main project in factory controlled conditions, offering a greater deal of certainty for the visual quality compared to brickwork built on site. The finished Brick Slip Feature Lintel joins seamlessly with the surrounding brickwork.
To find out more about Brick Feature Lintels by Keystone, click here